Center for the Elimination of Minority Health Disparities
CEMHD (Center for the Elimination of Minority Health Disparities), is a collaborative effort focusing on minority health disparities in the smaller cities and towns of New York. For more on who we are please click here.
Accomplishments of our recent graduates from the Health Disparities Research Training Program.


Read more here.

CEMHD is deeply involved in COVID-19 research and projects.
Read more here.


October 24th, 2021
COVID-19 Vaccination Drive
Flyer available below in English and in Spanish. Other Capital Region vaccination sites available here.



October 27th, 28th, and November 6th, 2021
COVID-19 Vaccine Clinic

Scan the QR code on the flyer or go to www.albanycounty.com to register for the Albany County Department of Health COVID-19 Vaccine Clinic. Flyers on this website will be updated as each of the dates go by.

October 18th - 22nd, 2021
14th Annual Mentoring Conference: Mentoring in an Interconnected World

The Mentoring Institute's 14th Annual Mentoring Conference is being held virtually this fall!
See the Plenary Speakers for this conferences here!
Register for the Mentoring Conference here!
September 20th, 2021




EduMed Scholarships and Resources for Hispanic and Latinx Students

National Hispanic Heritage month is from September 15th to October 15th! To honor that, EduMed has put together a guidebook showcases 20 scholarship opportunities and other helpful resources for Hispanic and Latinx students.

June 26th, 2021
You are Invited to the Day of Healing, Presented by the Albany County Legislature & Minority Health And Equity Task Force


May 17th, 2021
CEMHD Team Led by Prof. Archana Krishnan wins Best Meeting Poster at the 5th Annual Conference of the Center for Health and Social Media (CHASM); May 13th-14th, 2021.
Documenting Disparities in Technology Access, Information-Seeking and Vaccine Hesitancy during the COVID-19 Pandemic in New York's Capital Region



April 30th, 2021


2021 President's Forum on Health Disparities:
Health Disparities in the World of COVID-19

Check out more information here!
Register for the President's Forum here!

May 1st, 2021

Myanmar Multi-Ethnic Charity Fair

February 18th, 2021
The Black Family: Representation, Identity, and Diversity

This event will be hosted on Facebook Live! You do not need a Facebook account to participate in the event. Access the event page here.
December 9th, 2020
2020 PREMIS Series: A Conversation with Dr. David Satcher: My Quest for Health Equity: Notes on Learning While Leading


COVID-19 Conversations
with the APHA and the National Academy of Medicine
The sixteenth COVID-19 Conversations webinar will discuss the next steps for ensuring COVID-19 vaccines reach the public, including overcoming vaccine hesitancy, ensuring a robust supply chain and communicating clearly and consistently throughout.
The webinar will begin with an introduction from the session's moderator, Jewel Mullen, Associate Dean for Health Equity at the University of Texas at Austin Dell Medical School, and then feature a conversation with a panel of experts, including:
Paul Offit, Director, Vaccine Education Center, Children's Hospital of Philadelphia

Katie Greene, Visiting Policy Associate at Duke-Margolis Center for Health Policy

Julie Swann, Department Head, Edward P. Fitts Department of Industrial and Systems Engineering, NC State University

Noel Brewer, Professor, Department of Health Behavior, University of North Carolina Gillings School of Global Public Health
October 24th, 2020
Acacia Network and Capital District Latinos present:
Wellness Workshops & Health Screenings


October 22nd, 2020
Brooklyn Health Disparities Center Presents:
2020 PREMIS Series: A Conversation with Richard Rothstein
The Color Of Law
October 1st, 2020
Racism and Racial Bias in the Medical Community
Zoom Talk Hosted by the Student Association's Health and Sustainability Department
Congratulations to our 2020 Health Disparities Fellowship Graduates:
Drs. Melissa Noel and Wayne Lawrence
Melissa Noel received her Ph.D. from UAlbany, School of Criminal Justice. Dr. Noel starts a Post-Doc this fall at American University in Washington, DC in the Justice, Law, and Criminology Department where she will be teaching a course and conducting her own research.
Wayne Lawrence received his PhD. in epidemiology from UAlbany, School of Public health. He is now a Cancer Prevention Fellow at the National Cancer Institute of the National Institutes of Health in Bethesda, Maryland.
June 22nd, 2020
Associate News Feature:
Dr. Wayne Lawrence's Article in the Times Union
Commentary: Public Health Experts Can't 'Stay Out of Politics', Nor Should They

Dr. Wayne Lawrence recently published an opinion article with the Times Union discussing the impact and importance of public health officials in the political landscape. To read the article, please click the link
here
.
May 2nd, 2020
Associate News Feature:
Dr. Kaydian Reid's Article in the Hartford Courant
"Why the coronavirus hits harder in communities of color"
Former Health Disparities Fellow, Dr. Kaydian Reid, recently published a special op-ed in the Hartford Courant discussing how COVID-19 has disproportionately impacted communities of color. Dr. Reid is currently an assistant professor and program director for the Master of Publich Health Program at the University of St. Joseph in West Hartford.
Read her article here!
Black/African Americans Outside NYC Suffer Even Greater Health Disparities in the Impact of COVID-19 than NYC Black/African-Americans According to Data from the NYS Department of Health
For ease of access, the position paper is also available as a PDF here.
Albany Minority Health Task Force
Position Paper on Racial Disparities in COVID-19
Please read the Albany Minority Health Task Force Position Paper on Racial Disparities in regards to COVID-19 below. For ease of access, the position paper is also available as a PDF here.
Alzheimer's Association: Ask the Expert
June 17th, 2020
COVID-19 and the Black Community
May 1st, 2020
Reminder: Complete the 2020 Census Today!
Census information is an important source for research into assessing various community needs as well as informing federal funding for local school programs. Be sure to complete your 2020 Census! More information on how to send in your response can be found here.
Associate News Feature:
Five Questions with Elizabeth Vasquez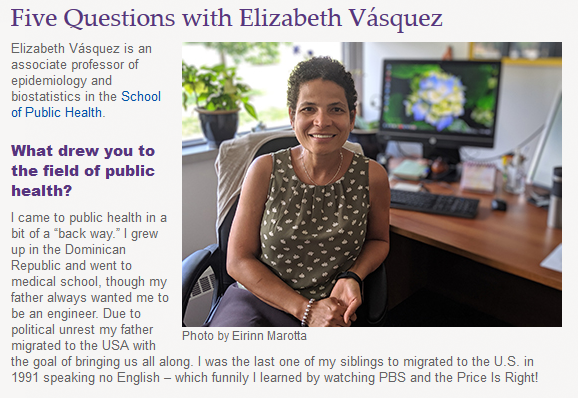 Our very own Dr. Vasquez was featured in a Five Questions article with the UAlbany News Center. Check out the full article here!
March 5th, 2020
AVillage's Celebration of Progress
Save the date for AVillage's Celebration of Progress! The 10-year anniversary of the group's work in Albany's South End will be celebrated at their seventh annual Celebration of Progress and Annual Fundraising Dinner.
It will be held Thursday, March 5th, 2020 at:
The New York State Museum
Theater and Adirondack Hall
5:30pm Registration
6-7:00pm Program
7:00pm Dinner, mingling, and conversation
Registration is due by February 27th, 2020 and can be done online at:
November 15th, 2019
President's Forum on Health Disparities
October 24th, 2019
Latino/Hispanic Health Disparities Conference
September 19th, 2019
Congratulations to Dr. Julia Hastings on
Receiving the 2019-2020
APHA Insley-Evans Award
"Dr. Julia Hastings, assistant professor at the University at Albany Schools of Public Health and Social Welfare, has been named as the 2019-2020 Insley-Evans Public Health Social Worker of the Year by the Public Health Social Work (PHSW) Section of the American Public Health Association (APHA).
This award, which recognizes excellence in public health social work, is named after Ms. Virginia Insley and Ms. Juanita Evans, who both held significant roles in the founding of public health social work education.
Dr. Hastings is recognized for her contributions through community service, organization and planning, administration, education, research, publications, and professional organizations. She holds a strong commitment to elevating health outcomes for underserved and underrepresented racial and ethnic populations."
Announcing the President's Forum
The Annual President's Forum on Health Disparities is a centerpiece of UAlbany's prestigious $10 million NIH/NIMHD-funded Endowment for Community-based Health Disparities Research and Training program.
Addressing health disparities is a critical public health priority for New York State as well as our entire nation. New York has an exceptionally diverse population spanning race and ethnicity with people living in very rural to very urban places and coming from very wealthy to very poor socioeconomic conditions. Regrettably, equally good health is not afforded to all New Yorkers.
Members of our campus community, colleagues from across institutions of higher education, along with partners from healthcare providers and community groups will be invited to the President's Forum. In addition to the exchange of ideas, new concepts and solutions, the Forum will also provide professional development and networking opportunities to foster future research and scholarly collaboration.
This year's forum is slated to be held on Friday, November 15th, 2019 from 9am - 5pm in the Campus Center Board Room at SUNY Albany's Uptown Campus. Any changes to the schedule or location, as well as any updates for the event will be posted to this page.
---
Past Events and Community Activities