More Mathematics News
Additional recent news items
Inaugural Maheshwari Colloquium
On Friday, April 20, 2012, the Department of Mathematics and Statistics will inaugurate the Maheshwari Colloquium, endowed in honor of Man Mohan and Asha Devi Maheshwari by Raj Maheshwari, '83.
The speaker will be Michael J. Hopkins from Harvard University. The title of his lecture is "Symmetry, Homotopy, and Smooth Manifolds".
The colloquium will begin at 3:30 p.m. in Lecture Center 4.
Refreshments will be served from 2:45 p.m. For more information, please visit the Maheshwari Colloquium web page.
Dr. Cristian Lenart promoted to Full Professor
Dr. Lenart is the author of 35 research papers and also software packages for experiments related to his research. He is the recipient of three National Science Foundation grants. Dr. Lenart has presented his findings at national and international conferences, and has co-organized workshops and special sessions in his areas of interest. He will be participating in a semester program as a fellow in residence of the Institute for Computational and Experimental Research in Mathematics at Brown University, in spring 2013. Dr. Lenart regularly teaches graduate classes in algebra, combinatorics, and geometry.
The Performing Arts Center and Department of Mathematics
have teamed up to bring writer, performer and "recovering mathematician" Gioia De Cari to campus for a performance of "Truth Values: One Woman's Romp Through M.I.T.'s Male Math Maze" on Wednesday, February 8 at 7:30pm.  A former Ph.D. student in Math at M.I.T., De Cari's 75-minute solo show is a humorous, scathing, insightful and ultimately uplifting true-life tale of the challenges of being a professional woman in a male-dominated field. Read more here.
Pi Day 2011
is commemorated on March 14, or 3.14, Pi's approximate value. Common celebrations involve discussions of mathematics over a slice of pie. In this Q&A article UAlbany Professor of Mathematics Cristian Lenart discusses the history of Pi, why Pi is important in mathematics, and how the number is relevant to society. Pie and Coffee in the Faculty Lounge at 2:15pm.
On Friday, October 10, 2010, the College of Arts and Sciences welcomed back Raj Maheshwari, a 1983 graduate of the Department of Mathematics and Statistics.  Mr. Maheshwari recently endowed a colloquium series in the Department of Mathematics and Statistics in honor of his parents, Man Mohan and Asha Devi Maheshwari.  Mr. Maheshwari visited the campus along with family and friends to take part in a ceremony recognizing his generosity.  His parents traveled from India for the event while others came from Spain and England to share in the celebration.
Ivana Alexandrova began her appointment as Assistant Professor in the
Department of Mathematics and Statistics in January 2011.  
Ivana Alexandrova began her appointment as Assistant Professor in the Department of Mathematics and Statistics in January 2011. Born and raised in Bulgaria, she earned a Ph.D. from the University of California, Berkeley. After receiving her doctorate, she was a posdoctoral fellow at the University of Toronto for two years before accepting a tenure track position at East Carolina University prior to joining our faculty. While at East Carolina University she has also held invited and visiting positions at Universite de Paris - Sud and Institut des Hautes Etudes Scientifiques in France and the University of Tokyo, Japan. Dr. Alexandrova's research interests lie at the interesection of mathematical physics and partial differential equations, more specifically, in the areas of scattering theory, semi-classical analysis, and the Aharonov-Bohm effect.
Marco Varisco began his appointment as Assistant Professor in the Department of Mathematics and Statistics in September 2010 .  
Born and raised in Milan, Italy, he earned a Master's degree from the Università degli Studi di Milano and a Ph.D. from the Westfälische Wilhelms-Universität in Münster, Germany. After receiving his doctorate and before joining our faculty he was a Visiting Assistant Professor at Binghamton University, SUNY. Dr. Varisco's research interests are in topology, and more specifically in algebraic and geometric topology and algebraic K-theory, branches of modern theoretical mathematics at the intersection of geometry and algebra.
Professor Lindsay N. Childs is featured as one of three distinguished researchers on our campus.

Lindsay N. Childs was recently named a Collins Fellow, see the news item below. In 2002 Childs won the University's President's Award for Excellence in Research.

April 17, 2010

Scott Sidoli, a graduating senior from our department, gave a talk at this conference for undergaduate students which is a regional annual event. Here is the description of his experience in his own words:

"At first I felt nervous about presenting my senior thesis to strangers, most of whom would be math majors. But upon registration at Keene State College, the hosting institution, I could immediately feel that I was in a relaxing and confortable environment. I met so many math majors from so many other schools and was able to truly get a sense for the sort of research that was being done at the undergraduate level. I was able to find people my age who were actually doing research in areas similar to mine, which allowed for us to discuss our research with each other. This might not seem like such a big deal, but other than the professor you are working with and other math majors with the same concentration as you, it is very difficult to find people to bounce ideas off of and have them actually understand what you are talking about. Finding that I had entered into a mathematical arena where there were so many intriguing and original ideas getting exchanged, I really got the feeling that this was what it was like for professors when they attend conferences. I attended talks on applied mathematics (specifically mathematical modelling), and talks on areas of abstract algebra, the latter being the panel that I was presenting for. I cannot tell you how rewarding it feels to have my research looked at by colleagues my own age and to then have to field
questions. It allowed me to actually feel like a professor, which is something that I aspire to become. It was one of the most fulfilling experiences that I have had as an undergraduate math major here at SUNY, and would certainly recommend future students to attend, even if they aren't presenting."
The SUNY Albany Graduate Program in Mathematics has been awarded a GAANN grant from the U.S. Department of Education that will provide generous three year graduate fellowships for Ph.D. students in Mathematics from 2010 to 2012. All qualified applicants will be considered for GAANN Fellowships.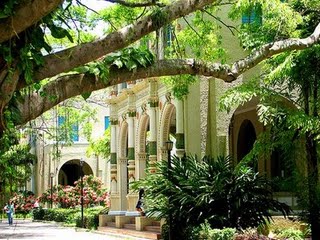 Rincon, Puerto Rico, March 22 - 26, 2010
Lindsay N. Childs, a much-loved mentor of students and an internationally recognized expert in algebraic field theory, has been named a Collins Fellow.
The award, named for former UAlbany President Evan Revere Collins, recognizes senior teaching faculty who have shown "extraordinary devotion to the University and the people in it over a sustained period of time." Collins was president from 1949 to 1969.